LapCats is a CFA Inspected
Cattery of Excellence
2013 to 2017
*Note: Declawing cats is illegal in many US states. The practice is also banned in at least twenty two countries, including Germany, Finland, Switzerland, Australia, New Zealand and Japan.
LapCats is a small Maine Coon cattery located near Topeka Kansas. Our CFA Registered Kittens have award winning pedigrees and are Health Guaranteed. They are vaccinated and wormed before you get them. Our breeding cats have yearly Echocardiograms, are checked for Hip Dysplasia, and are DNA tested for: PKD, HCM, SMA, Familial Episodic Hypokalamic Polymyopathy, GM2, Mucopolysaccharodosis. PRA Late and early Onset), Pyruvate Kinase Deficiency, Niemann Pick Disease
We have two or three litters per year. Our kittens are handled daily from birth to make wonderful loving well socialized family pets. They are also socialized with a dog.
Our Cats and Kittens are not caged. They are raised as our beloved pets, and are spoiled rotten with lots of love and attention! They sleep in our bedroom at night, and are moved to the family room during the day. Usually around eight weeks of age they don't get lost, and can find their way back to the litter pan; so are allowed free roam of our home.
Reservations: Once we have a litter on the ground, reservations can start being made between four to eight weeks of age. Kittens are eligible for adoption and will be allowed to go to their new homes between twelve and sixteen weeks of age.
Email List: We do have an email list for early notification of new litters. If you would like to be updated as litters arrive, please send an email and request to be put on the 'Notification Email List'.
We show our cats in Cat Fanciers Association (CFA) cat shows. Our goal is to reach the title of Grand Champion for our breedingcats. Showing the cats allows us to stay current with the Maine Coon Breed Standards and develop working relationships with other breeders; in an attempt to continually improve the breed.
Please feel free to email: Cathy@LapCatsCattery.com
or call about future litters: 785-256-6861 or 785-256-6989
Thank you for your interest, Cathy
Co-Parenting at its finest!
Conratulations to LapCats Chelle Bell and Grace Hibberhip. They are Region 6's 1st and 2nd place Breed Winners in both the Kitten and Championship Class for the 2016 & 2017 Show Season.
Regional Winner and Grand Champion
8 Month Old
Grace Hibberhip!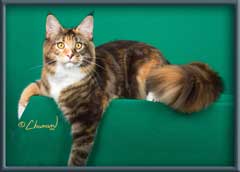 Click to see her Photo Gallery
Our Fist Grand Champion Rosa is Grace's Grandmother, and Toby our First Regional winner is Rosa's Son, and Grace's Dad.
Congratulation to GC RW Chelle Belle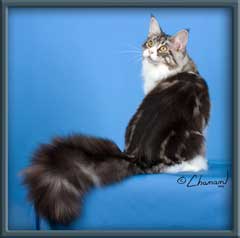 Click to see her photo Gallery

Silver with White Classic Tabby
CFA MIDWEST REGION 6
Region 6 is the tan color in the top center of the map.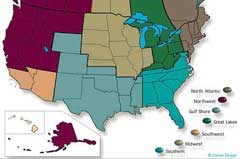 Congratulation to GC RW Lapcats Tobias MacNifico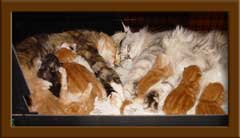 Maine Coon mothers, Lizzy and daughter Kizzy have kittens that are one week and one day apartin age.
They have two identical birthing areas. But they choose to co-habitat in the same space.
The two red kittens in the bottom right actually belong to the brown patch tabby daughter on the left. All the kittens on the left belong to the Silver Tabby mother on the right, except for the one calico kitten.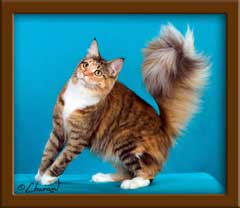 GC LapCats Rosa Parks was the CFA Region 6, Best Maine Coon Kitten for the 2013 - 2014 Show Season!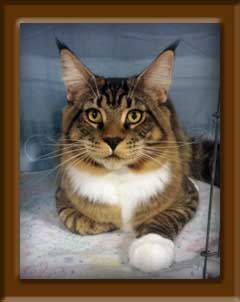 Grand Champion LapCats Tobious MacNifico, he is The Best #1 Best Maine Coon, and the 4th best All Breed in the CFA Region 6 Championship Class!
Toby is a big boy, he weighed in at 25.5 pounds when last weighed. Toby was born October 6th, 2014.