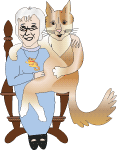 CFA Registered Maine Coon Cats and Kittens
Keeping the standards

The LapCats Cattery offers Maine Coon Cats and Kittens for sale in Kansas. Our Maine Coons are Health Guaranteed, CFA Registered, and have Award Winning Pedigrees.

Planned Maine Coon Couples

I am very excited about the new upcoming Maine Coon Kitten litters! With the award winning pedigrees and the wonderful temperaments of the parents we will have great kittens with wonderful loving dispositions. I am looking forward to the total package of great health, heavy boning, great type, and gorgeous silky coats. I should get a rainbow of Maine Coon Kitten colors.
Cick the images below to see larger pictures of the couples
CH Scarlet Allure

Scarlet is an eye-catching Red Classic Tabby and is the daughter of GC Lizzy and GC RiverCats Dakota. She was born 04-01-13. Rosa is very playful with personality that just doesn't quit. She has brought me so many laughs with all her sill antcics! She likes to play chase and will jump stright up in the air before turning to run so you can chase her. With her beauty, long body type, and heavy boning, we have great expectations for her litters!

GC TheCatHut Lil Gator Creek of Lapcats

We are Extremely Excited and Proud to have Gator in our Breeding Program at LapCats Cattery!

Gator is the son of Gaylton Eloise of TheCatHut and Father - Gc,Rw,Nw,
Thecathut Little Big Guy, he was born December 30, 2011. He is a beautiful Brown Classic Tabby with White. He is a CFA Grand Champion. weighs in around 20 pounds at two years of age, and will continue to grow until he is five years old. He has a wonderful pedigree which includes Regional and National Winners.

He is quite the lover boy, and is quick to fill any lap waiting for the loving up that he love to get! With his wonderfully fun and playful personality he is bound to pass these great traits on to his kittens!



Click to View Scarlets' Pedigree
Click to See Scarlets' Photo Gallery


Click to View Gators' Pedigree
Click to See Gators' Photo Gallery




---

Champion Florida Sue

Flora is an elegant Brown Patch Classic Tabby with White. She is the daughter of CH Muskingum River of RiverCats and GC Y1Kat Cool Hand Luke of RiverCats. She was born 05-05-13. She comes to LapCats Cattery from RiverCats Cattery in Florida. She has the most loving personality and is always the first one to come snuggle up with me. It didn't take her long to work her way deep into my heart! Thank you Susan and Cal for sending her home with me! I have no doubt she will be an excellent addition to our lines!

Socrates

Socrates is a Silver with White young man. He was born April 15, 2014. He is developing extreamly well in type and purrsonality!

I expect these two Lovebirds will be spending time together very soon. So hopefully if they are in aggrement with the plans, we will have kittens in July.



Click to View Floras' Pedigree
Click to See Floras' Photo Gallery


Click to View Socrates' Pedigree
Click to See Socratess' Photo Gallery





---

CH MS Kansas USA

MS Kansas is an elegant Brown Patch Classic Tabby with White, and nearly a calico. She is the daughter of CH Muskingum River of RiverCats and GC Y1Kat Cool Hand Luke of RiverCats; and a younger sister to Florida Sue. She was born 10-20-13. She comes to LapCats Cattery from RiverCats Cattery in Florida. She has the most loving personality and is always the first one to come snuggle up with me. It didn't take her long to work her way deep into my heart! Thank you Susan and Cal for sending her home with me! I have no doubt she will be an excellent addition to our lines!

Sebaxtion

Sebaxtion is a Cameo with White young man. He was born April 15, 2014. He is developing extreamly well in type and purrsonality!

I expect these two Lovebirds will be spending time together very soon. So hopefully if they are in aggrement with the plans, we will have kittens in July.



Click to View MS Kanssas' Pedigree
Click to See MS Kanssas' Photo Gallery


Click to View Sebaxtions' Pedigree
Click to See Sebaxtions' Photo Gallery




---

To contact us: Cathy Johannes * Phone: 785-256-6861 * Email Cathy