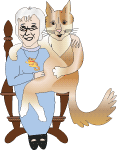 CFA Registered Maine Coon Cats and Kittens
Keeping the standards

The LapCats Cattery offers Maine Coon Cats and Kittens for sale in Kansas. Our Maine Coons are Health Guaranteed, CFA Registered, and have Award Winning Pedigrees.
GC RW LapCats Tobias MacNifico
Toby is a Brown Mackerel Tabby with White Maine Coon Stud Boy. We are very proud of how our little man has developed; he was LapCats second Grand Champion, and our first Regional Winning Cat. Toby's mother Rosa was our first Grand Champion.

Toby has matured into such a fun loving and beautiful Maine Coon Stud! He is just a big old goofball Gomer Pile; weighing in at 24lb at 2 years of age. He has consistently produced adorable loving kittens!
Click to See Toby's Pedigree
Click the thumbnails for a larger view of the picture.


New Born

1 Week

2 Weeks

4 Weeks

5 Weeks

6 Weeks

7 Weeks

8 Weeks

9 Weeks

10 Weeks

11 Weeks

10 Months

10 Months

10 Months

10 Months

10 Months

10 Months

10 Months

St Louis
Cat Show

Cincinnati OH
Cat Show

To contact us: Cathy Johannes * Phone: 785-256-6861 * Email Cathy