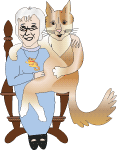 CFA Registered Maine Coon Cats and Kittens
Keeping the standards

The LapCats Cattery offers Maine Coon Cats and Kittens for sale in Kansas. Our Maine Coons are Health Guaranteed, CFA Registered, and have Award Winning Pedigrees.
LapCats Sebaxtion Ignatius
We are very proud of how our little man has developed into such a fun loving and beautiful young man! I will be excited to see his first kittens!
Click the thumbnails for a larger view of the picture.

To contact us: Cathy Johannes * Phone: 785-256-6861 * Email Cathy