LapCats is a CFA Inspected
Cattery of Excellence
2013 to 2015
*Note:

Declawing cats is legal in most US states. The practice is banned in at least 22 countries, including Germany, Finland, Switzerland, Australia, New Zealand and Japan.

LapCats is a small Maine Coon cattery located in near Topeka Kansas. Our Kittens are Health Guaranteed and CFA Registered. They have award winning pedigrees.

We only have two or three litters per year. Our kittens are handled daily from the moment of birth to make wonderful loving well socialized family pets. They are also socialized with a dog.

Our Cats and Kittens are not caged. They are raised as our beloved pets, and are spoiled rotten with lots of love and attention! They sleep in our bedroom at night, and are moved to the family room during the day. Usually around eight weeks of age they don't get lost, and can find their way back to the litter pan; so are allowed free roam of our home.

Reservations: Once we have a litter on the ground, reservations can start being made usually between four to six weeks. Kittens are eligible for adoption and will be allowed to go to their new homes at twelve weeks of age.

Email List: We do have an email list for early notification of new litters. If you would like to be updated as litters arrive, please send an email and request to be put on the 'Litter Notification Email List'.

We show our cats in Cat Fanciers Association (CFA) cat shows. Our goal is to reach the title of Grand Champion for our breeding cats. Showing the cats allows us to stay current with the Maine Coon Breed Standards and develop working relationships with other breeders; in an attempt to continually improve the breed.
Topeka CFA Cat Show September 5th, 2015
Topeka Expo Center - Ag Hall
Hosted By: The Topeka Cat Fanciers
Click to For $ Off Coupon
Click to For Information Flyer
---
Congratulations to GC LapCats Rosa Parks!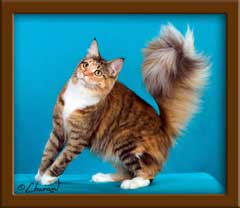 GC LapCats Rosa Parks was the CFA Region 6, Best Maine Coon Kitten for the 2013 - 2014 Show Season!
And, she is LapCats newest Grand Champion! She Granded in St. Louis on April 27th, 2014 with 227 points.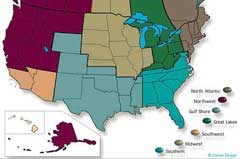 REGION 6 - MIDWEST REGION
Is the tan color in the top center of the map.
Rosa is happy, now she will retire as a show girl and start being a momma. And I expect she will be a wonderful mother as her mother was.
choose to co-habitat in the same space. The two red kittens in the bottom right actually belong to the brown patch tabby daughter on

the left. All the kittens on the left belong to the Silver Tabby mother on the right, except for the one calico kitten.

Please check the Breeding Plans link to see the new and future parents.

Please feel free to email
or call about future litters.

Thank you for your interest, Cathy